Welcome to the Ultimate Summer Golf Membership West Central Florida- Paradise Golf!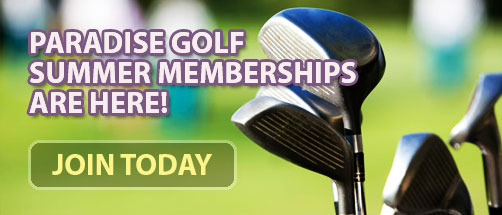 Join the premier, private multi-club golf membership without walls in the Tampa Bay, Central Florida, and West Central Florida area for Summer 2023, April 1 through October 31, 2023. As of July 7, 2023, the Summer Membership for 2023 no longer has free golf rounds but the price has been prorated down to $109. Details follow below:
WELCOME TO THE 2023 PARADISE SUMMER MEMBERSHIP -
DETAILS FOLLOW
---
The Paradise Golf Summer Membership for 2023 will once again feature some of the best clubs in the Tampa market and should have over 60+ clubs! In addition to the usual 40+ clubs in the 4 counties that make up greater Tampa Bay, we have multiple clubs in the Bradenton/Sarasota market as well as the Orlando market in 2023. We would be pleased to have you as a member so you could enjoy such a fine array of clubs at great prices through October 31.
CLICK HERE to see the in market Tampa Bay area clubs and the out of market clubs that are participating for Summer 2023.
The following describes what will be included in our 2023 Summer Membership program including our special signing bonuses:
DETAILS OF 2023 SUMMER PROGRAM INCLUDING COMPLIMENTARY GOLF & SIGNING BONUS PACKAGE MAY BE VALUED IN EXCESS OF $800
The list below is committed for 2023 Summer membership offer.
AS OF APRIL 12, THE FREE ROUNDS TO FOX HOLLOW AND HERITAGE ISLES ARE NO LONGER AVAILABLE
TRY US OUT COUPONS FOR THE SUMMER 2023:
TRY US OUT COUPONS - we have over 50 of these coupons that will be good for use to different clubs throughout the area at very low TRY US OUT rates! These passes range in validity from mid-April through mid-October. The coupons typically can be used anytime Mon-Fri, after 11am Sat-Sun -

valued up to $350 -

CLICK HERE

to see what the TRY US OUT coupons will be for summer 2023.
OTHER BENEFITS OF SUMMER 2023 MEMBERSHIP
Member for a Day Passes at great preferred rates to many different private clubs in the Tampa Bay area - valued up to $525
Very active tournament program which we call Sunshine Golf and are held at such fine courses many of which are private such as Golden Ocala, Black Diamond Quarry course, Lake Jovita, Southern Hills, East Lake Woodlands CC, and more.

CLICK HERE

to see our schedule
Free 30 minute session in PGA Superstore Performance Practice Center - $20 value

Free bucket of balls courtesy of Tampa Bay Downs Range - $5 value

Free bucket of balls courtesy of Ace Golf Brandon -

$5 value

Free bucket of balls courtesy of Crescent Oaks GC- $5 value
Free bucket of balls courtesy of Plantation Palms - $5 value

Restaurant Spiff to Thomas P's Restaurant Tampa, FL

Restaurant Spiff to The Little Greek Chain of Restaurants

Special Rates to the Don Club at the fabulous Don Cesar Resort
CALL (813) 265-3338 for any questions or CLICK HERE to purchase your Summer Paradise Membership for 2023. We think you will enjoy saving a lot of money while playing some of the best Tampa Bay golf going!
Sincerely,
Jerry
Jerry Couzynse, PGA
President, Paradise Golf

*Please add 7.5% sales tax & $4.95 shipping to membership cost
**Prices quoted are without sales tax